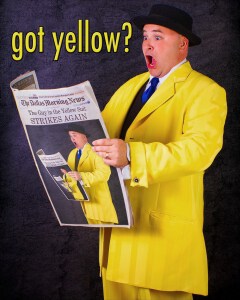 Christopher Lyle (aka, The Guy in the Yellow Suit) is a busy professional balloon artist and magician in the Dallas/Ft. Worth area. Christopher has been creating balloon art since 1990 and is in demand as an entertainer and instructor around the world. His unique style, his business savvy, and his sharp-tongued approach have made him one of the leaders in the balloon industry.
As a most sought after instructor, Christopher has taught at nearly every major convention in the United States and Internationally.  He has taught at  Kapitol Kidvention,  Kapitol Kidvention West, back-to-back years at Twist & Shout,  Balloon Camp Australia, and The Hamburg Jam in Hamburg Germany.
In 2018, Qualatex added Christopher to their esteemed list of "Sponsored" Instructors.  Christopher taught a full-day workshop at LaRocks in Charlotte, NC as well as the F.A.V.E. Convention in Las Vegas under the Qualatex Brand.
Christopher is passionate about balloon art and is excited to share his knowledge and experience with his colleagues.
For more information about the Guy in the Yellow Suit please visit christopherlyle.com